Hey ho, folks! Captain Fine himself, Chris Pine, has just starred in possible the greatest political ad of the last twenty years, "Leonard". In it he plays a guy who's basically... well, I'll let you find out. It's funny as hell, and Chris's performance is a manic masterpiece.

Trust me.






Leonard - starring Chris Pine




.

.
Bryan Fuller is stepping back from the showrunner role of CBS' "Star Trek: Discovery" as he juggles production responsibilities on two other series, Variety has learned exclusively.
The decision was made late last week to hand the day-to-day showrunning reins to "Star Trek" exec producers Gretchen Berg and Aaron Harberts as "Discovery" gears up for the start of filming next month and a May 2017 premiere date. Fuller, who will remain an executive producer, will still be involved in breaking stories, and the show will continue to follow his vision for the universe that this latest "Trek" series will inhabit. Writer-director Akiva Goldsman is also expected to join "Discovery" in a top creative role. He's envisioned as serving as producing support for Berg and Harberts, Fuller and exec producer Alex Kurtzman as they juggle the demands of the series that CBS is counting on to be the marquee selling point for subscriptions to its CBS All Access SVOD service.
(
Read more...
Collapse
)
Sorce:
Variety
That was 50 years ago, and an apparently dead series by season 2, made it to half a century, spawning movies, novels, other TV series, other movies, fanzines, fanfiction, and historically the birth of
slash
.
I was an 80's baby, so my Trek was The Next Generation where I worshipped Picard and Data, but it wasn't until the 2009 reboot movie that I delved into everything Star Trek, including the TOS, all the movies, books and cosplay and I lay all the blame on ONTD_startrek and all it's GQMF's.

To celebrate this historical day (even if in a sad year for the Trek family), please feel free to comment on this post, share memories, meetups, encounters, anedoctes, and post a hell of a lot. A lot of websites will be celebrating this phenomenal birthday, so please share anything you might see. I'll be at hand to aprove posts. (please remember to build up a post, don't just sent in a link).

In Portugal, every first theatrical session of Star Trek Beyond will be free tomorrow, as a way to celebrate. I'll try to catch one if I can. Is your country/city/state doing something?

Live long and prosper, fellow Trekkies.
On 8th September, 1966, the first episode of the Original Series, "Man Trap" aired on NBC from 8.30-9.30pm.
Looking for something new to hang on your tree this year? Hallmark's got you covered:
Hallmark has announced their new line of Christmas ornaments, including the one that depicts
Kirk being attacked by the Salt Monster
.
Hallmark says the Keepsake ornaments are designed to "help people capture memories and turn the Christmas tree into a holiday experience the whole family will enjoy." If your whole family enjoys looking at a Starfleet captain subjected to unimaginable pain by a ruthless alien, I want to come to your house for the holidays.
WANT WANT WANT WANT WANT!!!
.
.
tokyo_pt
already posted some of the cast's tweets for Anton, but I wanted to post a few others. Here they are. (And again, feel free to post others in the comments.)
(
Read more...
Collapse
)
(
This was the last photo posted on his Instagram...
Collapse
)
I was pondering doing a party post to honour his life. We haven't done one here in a long, long time! Any thoughts? Should I wait?
Hey everyone. ♥ I know it's been more than awhile since I've posted anything, but I'm still around. I know that






our dear friend. our comrade. our anton. one of the most open and intellectually curious people… https://t.co/zgTxXmyrbD
— Zachary Quinto (@ZacharyQuinto) June 19, 2016
John Cho






I loved Anton Yelchin so much. He was a true artist - curious, beautiful, courageous. He was a great pal and a great son. I'm in ruins.

— John Cho (@JohnTheCho) June 19, 2016






Please send your love to Anton's family right now. They need it.

— John Cho (@JohnTheCho) June 19, 2016
Karl Urban





I can't believe it , I m fckn hurting bad !

— Karl Urban (@KarlUrban) June 19, 2016





Anton was such a beautiful , gentle soul . He sought out new life experience with an unabated… https://t.co/laLifGEf3R

— Karl Urban (@KarlUrban) June 20, 2016





❤️❤❤️️For Anton❤❤️❤️️ https://t.co/Bz7YNTZq0D via @youtube

— Karl Urban (@KarlUrban) June 20, 2016
Bryan Fuller



REST IN PEACE, MR. YELCHIN pic.twitter.com/5Ld3bGphQk

— Bryan Fuller (@BryanFuller) June 19, 2016
William Shatner



Sad news for such a talented young man. Condolences to the family of Anton Yelchin.

— William Shatner (@WilliamShatner) June 20, 2016
JJ Abrams

June 19, 2016
Please feel free to add other tweets in the comments. :(
Zachary Quinto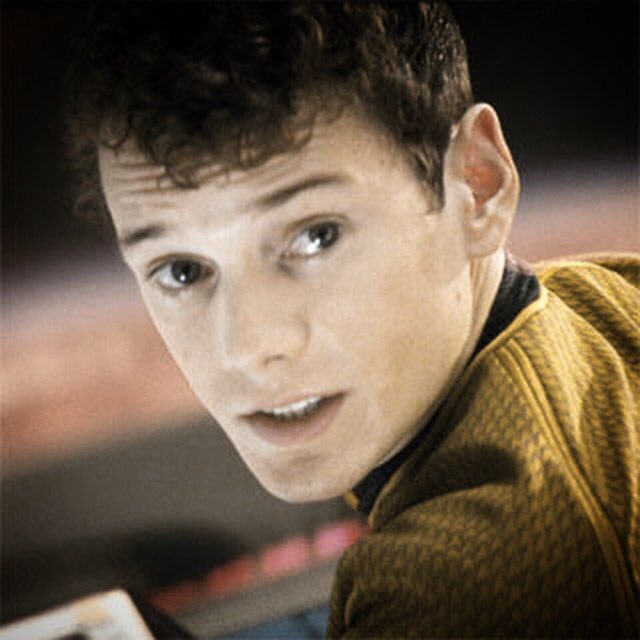 LOS ANGELES (AP) -- Anton Yelchin, a rising actor best known for playing Chekov in the new "Star Trek" films, was killed by his own car as it rolled backward down his driveway early Sunday, police and his publicist said.
The car pinned Yelchin, 27, against a brick mailbox pillar and a security fence at his home in Studio City, according to Los Angeles police Officer Jenny Hosier. He had gotten out of the vehicle momentarily, but police did not say why he was behind it when it started rolling.
Yelchin was on his way to meet friends for a rehearsal, Hosier said. When he didn't show up, the group came to his home and found him dead.
The freak accident tragically cuts short the promising career of an actor whom audiences were still getting to know.
(
Read more...
Collapse
)
The actor's publicist, Jennifer Allen, confirmed his death and said his family requests privacy.

Source