tokyo_pt
already posted some of the cast's tweets for Anton, but I wanted to post a few others. Here they are. (And again, feel free to post others in the comments.)
(
Read more...
Collapse
)
(
This was the last photo posted on his Instagram...
Collapse
)
I was pondering doing a party post to honour his life. We haven't done one here in a long, long time! Any thoughts? Should I wait?
Hey everyone. ♥ I know it's been more than awhile since I've posted anything, but I'm still around. I know that






our dear friend. our comrade. our anton. one of the most open and intellectually curious people… https://t.co/zgTxXmyrbD
— Zachary Quinto (@ZacharyQuinto) June 19, 2016
John Cho






I loved Anton Yelchin so much. He was a true artist - curious, beautiful, courageous. He was a great pal and a great son. I'm in ruins.

— John Cho (@JohnTheCho) June 19, 2016






Please send your love to Anton's family right now. They need it.

— John Cho (@JohnTheCho) June 19, 2016
Karl Urban





I can't believe it , I m fckn hurting bad !

— Karl Urban (@KarlUrban) June 19, 2016





Anton was such a beautiful , gentle soul . He sought out new life experience with an unabated… https://t.co/laLifGEf3R

— Karl Urban (@KarlUrban) June 20, 2016





❤️❤❤️️For Anton❤❤️❤️️ https://t.co/Bz7YNTZq0D via @youtube

— Karl Urban (@KarlUrban) June 20, 2016
Bryan Fuller



REST IN PEACE, MR. YELCHIN pic.twitter.com/5Ld3bGphQk

— Bryan Fuller (@BryanFuller) June 19, 2016
William Shatner



Sad news for such a talented young man. Condolences to the family of Anton Yelchin.

— William Shatner (@WilliamShatner) June 20, 2016
JJ Abrams

June 19, 2016
Please feel free to add other tweets in the comments. :(
Zachary Quinto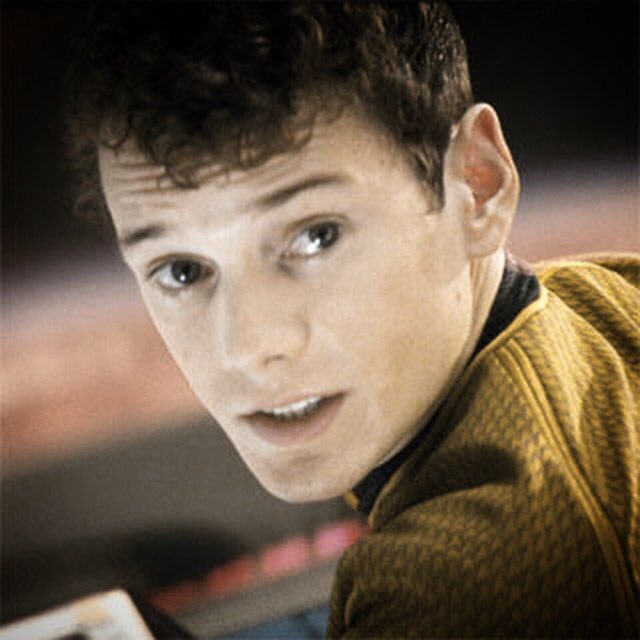 LOS ANGELES (AP) -- Anton Yelchin, a rising actor best known for playing Chekov in the new "Star Trek" films, was killed by his own car as it rolled backward down his driveway early Sunday, police and his publicist said.
The car pinned Yelchin, 27, against a brick mailbox pillar and a security fence at his home in Studio City, according to Los Angeles police Officer Jenny Hosier. He had gotten out of the vehicle momentarily, but police did not say why he was behind it when it started rolling.
Yelchin was on his way to meet friends for a rehearsal, Hosier said. When he didn't show up, the group came to his home and found him dead.
The freak accident tragically cuts short the promising career of an actor whom audiences were still getting to know.
(
Read more...
Collapse
)
The actor's publicist, Jennifer Allen, confirmed his death and said his family requests privacy.

Source


Hold on to your hats...


Star Trek Beyond has a new trailer and a release date: 22nd July 2016.
The first teaser trailer for the first new Star Trek series in a decade is here.
CBS All Access unveiled to advertisers Wednesday a teaser for its upcoming series from Hannibal showrunner and former Deep Space Nine writer Bryan Fuller.
The trailer includes a new logo and promises "new adventure, new crews, new villains, new heroes" – so ruling out doing a storyline that recycles existing characters. The series will premiere next January. No cast has yet been announced.
Watch the trailer below, and check out teasers for the other new CBS shows here.
Star Trek will be joined by a spin-off series for The Good Wife starring Christine Baranski on CBS All Access.
Source
by James Hibberd
Spanning half a century, Star Trek and its loyal fans cross generations, influencing ideas and aesthetics of gender, race and intergalactic potential. As the sci-fi saga continues, M·A·C and Star Trek's latest cinema generation join forces in an exclusive makeup collaboration of cosmically charged hues. Coming September 2016!
"Star Trek is an iconic pop culture phenomena whose storylines pushed gender and racial boundaries. For its 50th anniversary, we celebrate each of Star Trek's powerful women in a transcending, transformational makeup collection." — James Gager, MAC Senior Vice President/Group Creative Director
(
A look at the make up...
Collapse
)
this ONTD post
, CBS released a teaser poster and promo for the Fuller Star Trek TV series.
This is the poster,
Which I could basically mock up in Power Point in 2.7 minutes.
And you can see the promo at the source,
here
. Which tells me they haven't started shooting anything yet. Still, we have a date and not long to go now (I'm waiting for new Sherlock, another year is a short time for me, ok?).
UPDATE:
chienne_folle
gave the heads up that the poster is basically just a sales pitch, according to
Trek Core
.
Sources:
Empire
,
SpoilerTV
According to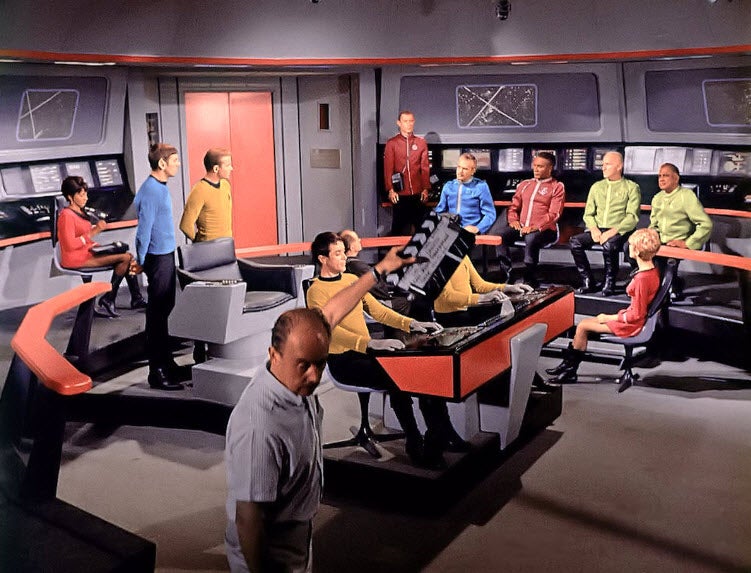 As we enter Star Trek's fiftieth year, it's a good time to look back on the early days of the show. Gerald Gurian has recently released a book that does just that: To Boldly Go: Rare Photos from the TOS Soundstage ($40), which gives us a good look at the behind the scenes making of the original show.
Gurian's book has hundreds of pictures of all aspects of the creation of the original Star Trek, giving us a great look at the sets, models, actors and work that went into bringing the science fiction show to life.

Lots of pictures at the source.

Source: io9
been tapped
to work on the new Star Trek TV series that CBS is going to use as cannon fodder to launch a new streaming service. He most recently was the creator and show runner on the Hannibal TV series. From what I've seen he likes horror, gayness and casting Lee Pace in things. This could get interesting!
He's


i feel like this movie happened very quickly! i am going to be optimistic about the new movie, given the new director and writer. at least from the trailer it looks like more of the movie will be on an alien planet, plus new uniforms!