HI EVERYONE! Remember that post about how
i_amamonster and I were going to go to a super hero battle? Well we did and got home a little bit ago and we took pictures of our outfits for you guys! We also saw
aelice there (she was a villain!) and we also met another member of
ontd_startrek who was dressed as Bones but I forgot her LJ username.
Here are pictures of our costumes and some pictures from the event I found on flickr!



Yaaay! I made the t-shirts. Leyna designed the awesome emblem and I transferred it onto a shirt.

Leyna goes to grab the camera: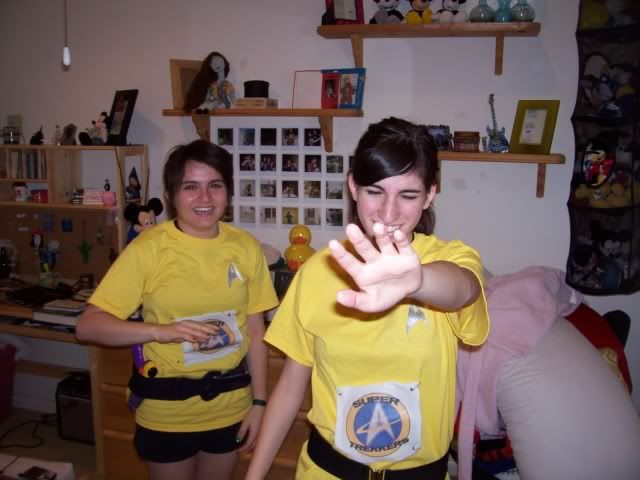 Full ensemble:


I take a picture with action figure! Kirk in the car:


Kirk sits on the dashboard (his face is kind of lens flared out? Kind of?


Kirk confronts a T-rex in Build-A-Bear: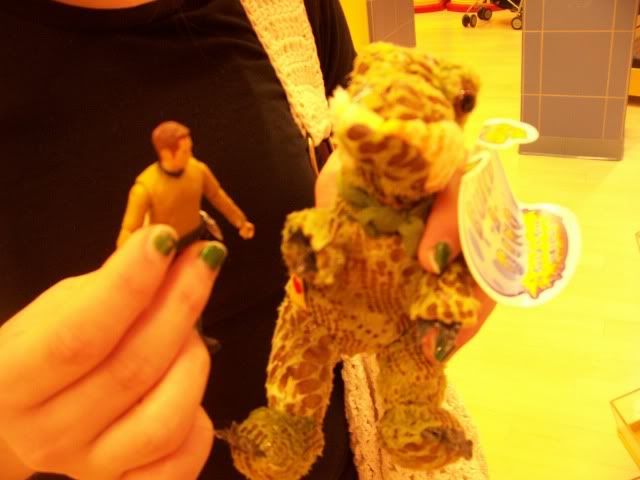 Onto the battle! We met up with the other Superheroes to get the low-down on everything that was happening. Here's a group picture of some of the heroes:


Another group pic:


As we were getting ready to leave... something happens! THE MALL COPS! At first they say we can't go through the mall whatsoever and then they talk to the leader and say that we can WALK through as long as we a)don't wear masks and b) don't take pictures. So the people wearing masks put them on top of their head and we start walking. We had planned on going through and helping out people and being superhero-ly and then taunting the villains inside the mall but that failed.
Mall cops coming over to us (funny thing is the actual cop was the nicest to us and most accepting of what we were doing. the one who was the strictest was this guy who couldn't have been older than Leyna):


So everything gets worked out and we head on over to the battle. The looks we all got were HILARIOUS. This one group ALL got out their cameras and were taking pictures.We were just like "STAY SAFE, CITIZENS!"
Walking:


More walking:


We got to the planned battle area and waited for the villains to arrive:


Then we battled! Leyna by chance got the bad one. Hahaha. The girl dressed as Bones had her iphone or itouch or whatever and had the phaser application on it . I thought that was really funny.


The actual battle didn't last really long. Haha. After a few minutes everyone was saying hi to eachother and taking pictures and stuff. This guy took a picture of Leyna & I ( we think he was from a newspaper but we don't know for sure). Afterwards we took a group picture:


VICTORY! Because obviously the HEROES always win!




Then the other people went back to the pubs and Leyna and I headed home. :) All in all it was really fun!
A lot of people had funny costumes. There was a guy dressed as a couch, Hipster Batman, a hobo, a girl dressed as Dolphin girl, Musical Theatre Girl, everyone was really creative.

PS to the other AZ people who were there: we should all go to Denny's! and bring the other people you were with too. :)
Photos credit to the awesome people at Improv AZ (Sheila Dee, Patrick Em, Teel McCalahan & probably a few more that I'm forgetting.)