Hold on to your hats...


Star Trek Beyond has a new trailer and a release date: 22nd July 2016.
The first teaser trailer for the first new Star Trek series in a decade is here.
CBS All Access unveiled to advertisers Wednesday a teaser for its upcoming series from Hannibal showrunner and former Deep Space Nine writer Bryan Fuller.
The trailer includes a new logo and promises "new adventure, new crews, new villains, new heroes" – so ruling out doing a storyline that recycles existing characters. The series will premiere next January. No cast has yet been announced.
Watch the trailer below, and check out teasers for the other new CBS shows here.
Star Trek will be joined by a spin-off series for The Good Wife starring Christine Baranski on CBS All Access.
Source
by James Hibberd
Spanning half a century, Star Trek and its loyal fans cross generations, influencing ideas and aesthetics of gender, race and intergalactic potential. As the sci-fi saga continues, M·A·C and Star Trek's latest cinema generation join forces in an exclusive makeup collaboration of cosmically charged hues. Coming September 2016!
"Star Trek is an iconic pop culture phenomena whose storylines pushed gender and racial boundaries. For its 50th anniversary, we celebrate each of Star Trek's powerful women in a transcending, transformational makeup collection." — James Gager, MAC Senior Vice President/Group Creative Director
(
A look at the make up...
Collapse
)
this ONTD post
, CBS released a teaser poster and promo for the Fuller Star Trek TV series.
This is the poster,
Which I could basically mock up in Power Point in 2.7 minutes.
And you can see the promo at the source,
here
. Which tells me they haven't started shooting anything yet. Still, we have a date and not long to go now (I'm waiting for new Sherlock, another year is a short time for me, ok?).
UPDATE:
chienne_folle
gave the heads up that the poster is basically just a sales pitch, according to
Trek Core
.
Sources:
Empire
,
SpoilerTV
According to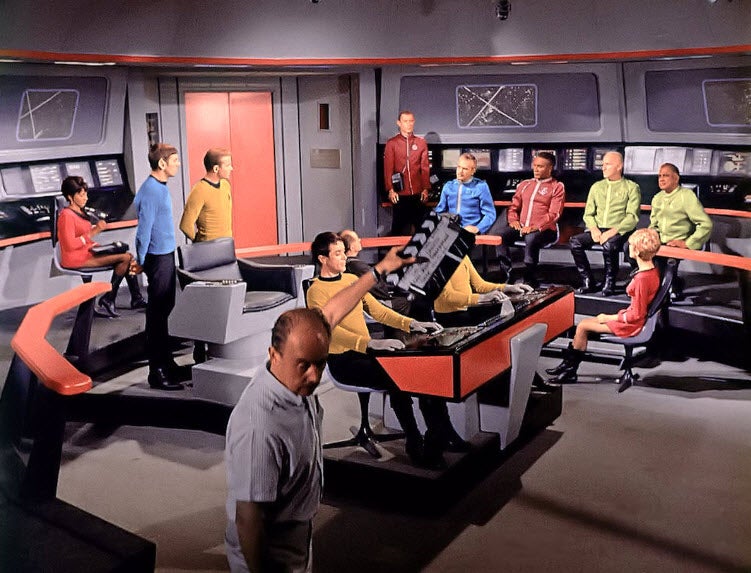 As we enter Star Trek's fiftieth year, it's a good time to look back on the early days of the show. Gerald Gurian has recently released a book that does just that: To Boldly Go: Rare Photos from the TOS Soundstage ($40), which gives us a good look at the behind the scenes making of the original show.
Gurian's book has hundreds of pictures of all aspects of the creation of the original Star Trek, giving us a great look at the sets, models, actors and work that went into bringing the science fiction show to life.

Lots of pictures at the source.

Source: io9


i feel like this movie happened very quickly! i am going to be optimistic about the new movie, given the new director and writer. at least from the trailer it looks like more of the movie will be on an alien planet, plus new uniforms!
With the 50th anniversary of Star Trek on the horizon, you and a friend will make franchise history as the first fans ever to win walk on roles in a Star Trek movie. You'll fly to the closed set of Star Trek Beyond and hang with the cast before hair, makeup, and wardrobe get you into character for the role of a lifetime. In addition to the grand prize winner, six additional winners will be randomly selected each week to form our Star Trek: To Boldly Go crew. As a member of the honorary crew, you'll visit the set, meet the cast, and be among the first to witness scenes from the latest voyage of the USS Enterprise.
The cast of Star Trek Beyond are supporting nine diferent charitable causes through Omaze, and giving you the chance to have a walk in role in the new movie, Star Trek Beyond, besides other goodies, in exchange for your support.
For the chance to win just follow the
link
, and choose your reward.
PS- This seems cool and all, but why didn't anybody told me Idris Elba was on ST Beyond? You are all fired! XD