Spanning half a century, Star Trek and its loyal fans cross generations, influencing ideas and aesthetics of gender, race and intergalactic potential. As the sci-fi saga continues, M·A·C and Star Trek's latest cinema generation join forces in an exclusive makeup collaboration of cosmically charged hues. Coming September 2016!
"Star Trek is an iconic pop culture phenomena whose storylines pushed gender and racial boundaries. For its 50th anniversary, we celebrate each of Star Trek's powerful women in a transcending, transformational makeup collection." — James Gager, MAC Senior Vice President/Group Creative Director
(
A look at the make up...
Collapse
)
this ONTD post
, CBS released a teaser poster and promo for the Fuller Star Trek TV series.
This is the poster,
Which I could basically mock up in Power Point in 2.7 minutes.
And you can see the promo at the source,
here
. Which tells me they haven't started shooting anything yet. Still, we have a date and not long to go now (I'm waiting for new Sherlock, another year is a short time for me, ok?).
UPDATE:
chienne_folle
gave the heads up that the poster is basically just a sales pitch, according to
Trek Core
.
Sources:
Empire
,
SpoilerTV
According to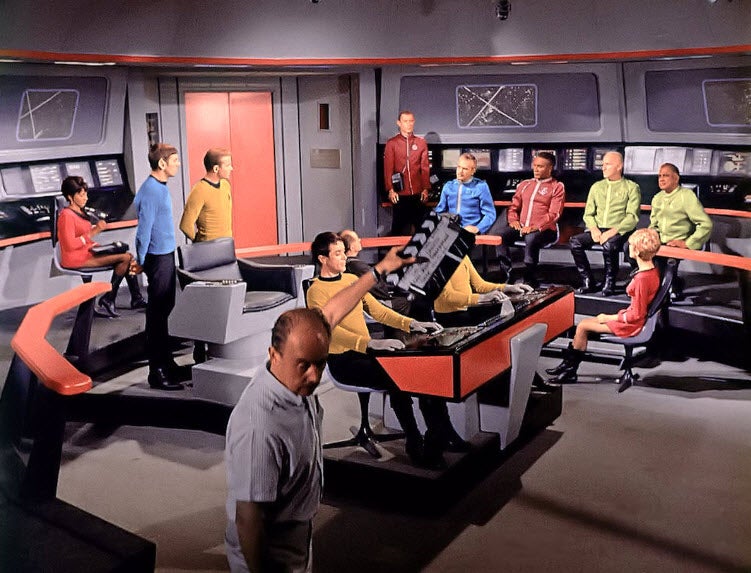 As we enter Star Trek's fiftieth year, it's a good time to look back on the early days of the show. Gerald Gurian has recently released a book that does just that: To Boldly Go: Rare Photos from the TOS Soundstage ($40), which gives us a good look at the behind the scenes making of the original show.
Gurian's book has hundreds of pictures of all aspects of the creation of the original Star Trek, giving us a great look at the sets, models, actors and work that went into bringing the science fiction show to life.

Lots of pictures at the source.

Source: io9
been tapped
to work on the new Star Trek TV series that CBS is going to use as cannon fodder to launch a new streaming service. He most recently was the creator and show runner on the Hannibal TV series. From what I've seen he likes horror, gayness and casting Lee Pace in things. This could get interesting!
He's


i feel like this movie happened very quickly! i am going to be optimistic about the new movie, given the new director and writer. at least from the trailer it looks like more of the movie will be on an alien planet, plus new uniforms!
With the 50th anniversary of Star Trek on the horizon, you and a friend will make franchise history as the first fans ever to win walk on roles in a Star Trek movie. You'll fly to the closed set of Star Trek Beyond and hang with the cast before hair, makeup, and wardrobe get you into character for the role of a lifetime. In addition to the grand prize winner, six additional winners will be randomly selected each week to form our Star Trek: To Boldly Go crew. As a member of the honorary crew, you'll visit the set, meet the cast, and be among the first to witness scenes from the latest voyage of the USS Enterprise.
The cast of Star Trek Beyond are supporting nine diferent charitable causes through Omaze, and giving you the chance to have a walk in role in the new movie, Star Trek Beyond, besides other goodies, in exchange for your support.
For the chance to win just follow the
link
, and choose your reward.
PS- This seems cool and all, but why didn't anybody told me Idris Elba was on ST Beyond? You are all fired! XD
Adam Nimoy has begun a Kickstarter campaign
to fund the production of the documentary he and Leonard began developing before Leonard's passing. Rather than talking about it myself I'll just let some excerpts from
the Kickstarter campaign
speak for themselves:
YOU can help make Adam & Leonard Nimoy's plan to create a Spock Doc come true! Watch the video, share the vision & pledge what you can!How It Started
Last year, just before Thanksgiving, I approached my dad, Leonard Nimoy, about the possibility of working together on a film about Mr. Spock. I had skimmed through some of the books on the making of
Star Trek
and felt there was so much more to explore about the birth and evolution of Spock. And the timing seemed right, as the 50th anniversary of
Star Trek:
The Original Series
was not that far away. Dad agreed that now was the right time, and that he was 100% committed to collaborating with me on this project. He also reminded me that we were (then) just days away from the 50th anniversary of the start of production on "The Cage," the original pilot for
Star Trek
in which Dad first appeared as Mr. Spock.
Please participate in my Kickstarter campaign and help me complete a project that was important to my dad and has become extremely important to me.
Thanks again for your time and consideration.
LLAP,
Who Is Involved With This Project?
Earlier this year, my father and I reached out to
455 Films
to help us produce this project. 455 Films is made up of producers
David Zappone
,
Kevin Layne
and
Joseph Kornbrodt
. Dad chose this company because he was familiar with the
Star Trek
related films they have produced with William Shatner and was impressed with their work. David, Kevin and Joseph are also very well versed in the
Star Trek
tradition, and have worked previously with all of the important players in the world of
Star Trek
.
With their background in production and my experience in directing over 45 hours of network television, I'm very confident that we're going to deliver an entertaining and enlightening film about the lives of Leonard Nimoy and Mr. Spock.
In addition, I'm excited to announce that Zachary Quinto has generously agreed to narrate the film about the famous Vulcan, a character he now knows quite well himself.
For more information on the project and Adam's video introduction, please visit the Kickstarter page.
Leonard Nimoy, Spock of 'Star Trek,' Dies at 83
Leonard Nimoy, the sonorous, gaunt-faced actor who won a worshipful global following as Mr. Spock, the resolutely logical human-alien first officer of the Starship Enterprise in the television and movie juggernaut "Star Trek," died on Friday morning at his home in the Bel Air section of Los Angeles. He was 83.
His wife, Susan Bay Nimoy, confirmed his death, saying the cause was end-stage chronic obstructive pulmonary disease.
Mr. Nimoy announced that he had the disease last year, attributing it to years of smoking, a habit he had given up three decades earlier. He had been hospitalized earlier in the week.
(
Read more...
Collapse
)
But that wasn't such a bad thing, he discovered. "Given the choice," he wrote, "if I had to be someone else, I would be Spock."
Source:
New York Times
Current Mood:

crushed