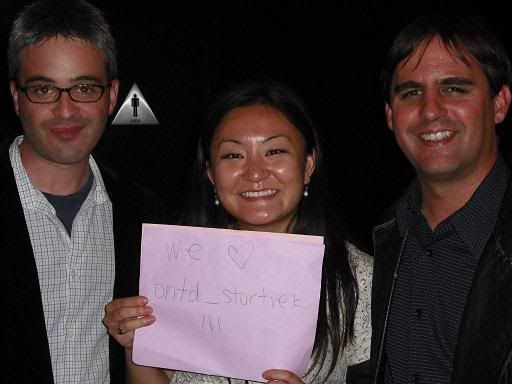 THAT'S RIGHT, IT'S ALEX KURTZMAN AND ROBERTO ORCI, AND THEY'RE THE BADASS MOTHERFUCKING SCREENWRITERS WHO ARE RUNNING THIS SHIT FROM THE GROUND UP.
THEY DON'T NEED YOUR TOS CANON, THESE DUDES ARE SO SMART THEY PULLED A WHOLE ALTERNATE UNIVERSE OUT OF THEIR BRAINS GODDAMN. THEY WROTE EVERY FUCKING SINGLE PIECE OF DIALOGUE AND ACTION AND DESCRIPTION ON THEIR FINAL DRAFT PRO 7, SO SHOW SOME RESPECT.
LOOKIT THE SILVER FOX ON THE LEFT. THAT'S KURTZMAN -- FUCKER'S SO CLASSY HE SPENT THE WHOLE NIGHT OF HIS WEDDING ANNIVERSARY ANSWERING OUR QUESTIONS INSTEAD OF ESCAPING HIS FANS, THAT'S FUCKING DEDICATION GODDAMN. THERE'S ALSO A "MAN" SIGN BY HIS HEAD BECAUSE HE'S 120% MAN AND DON'T YOU FORGET IT.
AND LOOKIT THE HOMBRE CALIENTE ON THE RIGHT. THAT'S ORCI -- BITCH IS SO FIERCE BECAUSE HE WAS BORN IN MEXICO CITY, AY CARAMBA. DUDE HAS SUCH A FABULOUS SENSE OF HUMOR REAL COMEDIANS GOT NOTHIN' ON HIS ASS. HE'S LIKE THE FUCKING RENAISSANCE MAN.
THESE BITCHES ARE SO EARTH SHATTERING THAT WHEN THEY PITCHED THE STAR TREK MOVIE IDEA TO LEONARD NIMOY TO GAIN HIS APPROVAL, NIMOY SAT IN STUNNED SILENCE AND THEN FUCKING BEGAN TO CRY BECAUSE THE STORY WAS SO GOOD.
THAT'S RIGHT, THEY MADE SPOCK CRY.
RECOGNIZE.
-------------
I went to their talk at the WGA Theater and then afterward asked them questions. They were so nice and humble and informative! And I told them about ONTD_startrek and how awesome you guys were.