January 30th, 2010
Hamlet
, you missed his freakin' GQMF awesomeness. The dude just exuded sneaky evilness. Oh, and David Tennant is flippin' amazing as well. This production is my favorite version of
Hamlet
, for realsies.
And so in honor of Sir Patrick Stewart's role and for those of you who haven't been able to see it/are too lazy to watch all three hours of the play
and because I am addicted to making macro stories
, I present you with a macro
parody
summary of
Hamlet.
(Watch out peoples with slow internet. There are 85 macros under the cut. This will beat up your internet and take its lunch money)
(
HERE WE GO.
Collapse
)
For those of you who haven't seen Patrick Stewart as Claudius in the Royal Shakespeare Company's
Essence Magazine's slide show of the event
. Also, damn. I've said it before but LeVar and his wife are one beautiful couple.
Stephanie Cozart Burton and LaVar Burton arrive at A Night Celebrating Cookie Johnson at The Conga Room at L.A. Live on January 16, 2010 in Los Angeles, California.
(
Full Size + Birthday girl and her cake
Collapse
)
Sources
1
,
2
,
3
Levar Burton (TNG's Geordi) attended Cookie Johnson's (Magic Johnson's wife) birthday party last week. I tell ya, the Johnsons known how to throw a party! For one check out this GQMF pressline with awesome guilded mirror in it. Yes please! And many of the guests brought their gifts of song to the gathering. Check out a more complete set of photos at
Among topics discussed were Sir Patrick's knighthood and Bill Shatner asking him to put a word for the Queen as he's a Canadian citizen and maybe could be a knight too. They talked about recasting TNG with kiddies, Shakespear, riding horses and wearing pantyhose in "Generations", discovering an inner woman and other interesting stuff.
There are pictures from the event
here
and
here
, and also
the only one (very short) Youtube clip
which I could find.
Must say that beeing kneeled to is a great look on Sir Patrick. He then bid Shatner to "Arise, Sir". :)
RobertBernardo
wrote a
great recap on William Shatner.com
which I'll repost under the cut.
(
Here be more of Bill and Sir Patrick's banter and pictures
Collapse
)
Sir Patrick also gave
an interview to the San Francisco news portal SFGate.com.
During which this exchange took place:
Q: So you turn 70 in July. You look like a man of 50. Any thoughts on the big 7-Oh?
A: I think I have great peasant genes. You ought to look at my thighs! I've got great peasant thighs - and hands.
OK, so we have a Shatner blog
"Look at his butt"
, and now I guess we got the name for a Stewart's blog. :)
(
Look for the whole interview under the cut.
Collapse
)
And now excuse me while I'll go and follow captain's orders!
Yes, Bill Shatner and Sir Patrick graced Star Trek Convention in San Francisco with their joined on-stage presence on January 24th, and by all accounts it was a hoot!
U.S.-Ireland Alliance
is planning to honor JJ as well as Saoirse Ronan (the lead in The Lovely Bones and The City of Ember) and Seamus McGarvey (director of photography for many major works). Apparently, being honored at this gala, which is held right before the Oscars, is a good luck charm to those who are Oscar nominated. Hm...
(
The U.S.-Ireland Alliance says it plans to honor J.J. Abrams, Saoirse Ronan and Seamus McGarvey at a gala in Los Angeles. FULL TEXT UNDER THE CUT
Collapse
)
According to the
official press release
, JJ will be made an "Honorary Irishman" at the event. What does this entail exactly? And I'm not 100% on
why
this is happening, but alright.
I wonder if you can get tickets to this...
Source
.
The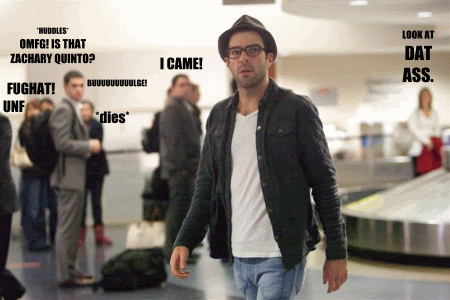 Our boyfriend Zachary Quinto made his return to Los Angeles after spending a bit of time in New York City yesterday. In true ZQ fashion he wears his "fug hat" of the moment and his tight blue jeans we so admired during our last visit with him.
I'm utterly jealous of some of my Twitter buddies who managed to meet Zach while he was in the Big Apple. I'm also insanely jealous of those people standing around the baggage collection area who get to breathe the same air as our beloved star.
Poor Zacky cakes had to clear up all that misquoted
Star Trek
drama this week. So for the record, he will be filming the movie, just not doing any side projects for it.
SOURCE
Current Mood:

flirty
frontyardninja
gifted me with paid photobucket time. I am not going to waste it. (PS- The legs post went down for a bit 'cause I was an idiot and renamed the album which broke the links. Everything is back now, but in random order.)
A gift these picspams have granted me is ability of being able to see a picture of ZQ or CPine and being able to tell when/where it was taken. I don't know whether to be proud or ashamed.
As with the ZQ picspam I had to sift through thousands of pics (woe is me) and narrow it down to these mere 100-ish. (IDEK it just happened) Chances are quite a few slipped by me. Feel free to keep the unf going in the comments!
Also, for some reason photographers keep wanting to take pictures of his face. The mind. It boggles.
Now, I know what you're thinking. You're thinking "Why are you still talking? PLZ TO BE GETTING ON WITH THE SEXY."
But isn't the slow build ~exciting~? Just sit back, let the suspense build and *dodges projectiles* WELL OKAY THEN.
PREPARE TO GET YOUR SCROLL ON.
(
By clicking this cut I hereby waive all rights to blame OP for inducing cardiac arrest and/or similar conditions causing bodily harm.
Collapse
)
Next up:
Karl Urban's masculinity.
My ZQ leg picspam went over so well I thought I'd do it again.