February 14th, 2010
HAPPY VALENTINE'S DAY, BBs!

HAPPY FRIENDSHIP DAY, VD, V-DAY, VALENTINES DAY, SINGLES AWARENESS DAY, OR WHATEVER YOU CALL IT. JUST HAVE A HAPPY DAY.

I HOPE KUPID HAS SENT YOU A VALENTINE. I KNOW HE SENT ME A WHOLE BUNCH OF AWESOMETACULAR GQMFs.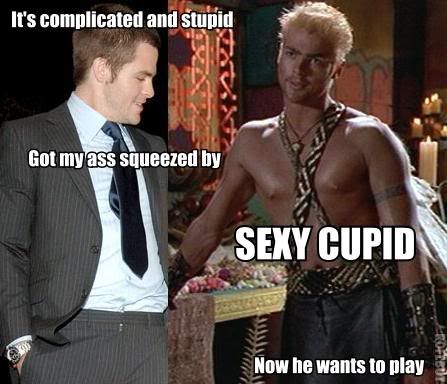 YOU KNOW YOU WANT TO SING ALONG TO THE BEST LOVE SONG MASH-UP EVER.


THE GROUP LIVEBLOG FOR ST XI STARTS AT 3 PM EST, 3 HOURS AFTER THE PARTY STARTS!
Current Location:

NYC

Current Mood:

excited

Current Music:

PARTY HARD
They decorate their main set with LESSER KNOWN GEEKY STUFF and for the last two seasons the writer Graham Linehan has asked for viewers to come up with ideas for set dressing.
Which brings me to... could we get a mention of GQMF on the show? They would have to be sent some stuff, IDK, mugs, stickers, tshirts, and they often ask for help with rights clearances, but come on, if GQMF doesn't belong to US in some sense (and Urban Dictionary says it does) then who does it belong to??
This is the text of the blog which Graham Linehan posted
…and we're off! Three weeks to go, five and a half scripts done, casting begun, location scouting next week…it's all happening! And once again, we're asking for your help in populating the IT Crowd office with cool bits.
Same story as last time, send us your poor huddled zines, your artwork, your comics, your T-shirts, your memes. Anything you think should be in there that we might have missed. It's especially helpful if you own the rights to the merchandise, but even if you don't, send us pics and links anyway and we'll do the legal legwork.
This year, the man to contact is Chris Jones. He's set up @ItCrowdSupport so you can get in touch with him there. We'll occasionally be looking for help with extras, locations and the like, so following is a way of saying you don't mind that kind of request occasionally popping up in your feed. It's also a good follow if you fancy joining us at one of the studio recordings.
The studio recordings… that familiar cold wave of fear just went through me like poo through a goose. Better get back to work.
P.s. Oh, this is a long shot but…does anyone know anyone who can help us with 'Star Trek' clearances? I got this killer bit that I'm reluctant to let go without a fight…
Can we help? TEAM GQMF - PUNCH IT!
Link to blog
Hi guys, you may know of a TV show called the IT Crowd, it's a UK show about IT nerds and it v. funny.


HAPPY BIRTHDAY SIMON PEGG.



I'M FLABBERGASTED. NO REALLY, CONGRATS TO YOU GUYS. WELCOME TO THE (HOPEFULLY) CHILL PARTY POST. ENJOY, HAVE SOME CHOCOLATE.
VALENTINE'S DAY PARTY POST 2.0
Current Location:

NYC

Current Mood:

SUGAR HIGH

Current Music:

BSB
Family Guy
is always giving references to make the fangirl in us squee like an incoherent mad women. They have some epic references included an episode where
Stewie kidnaps the cast of TNG
and
William Shatner becoming one of Peter's BFFs
.
Tonight, on a brand new episode, there was a shout out to Mr. Spock:
Who is with me in a need to icon this epicness!
edit!
mr_i_jones
made this icon!
_\\//
I know that you all are still partying hard, but I thought that I should share this with you just encase you missed it.
Current Mood:

accomplished