March 7th, 2010
don't offer more than you already offered for this first round.
If you want to participate as an OFFEROR you can join
The Convocation Entry
and the Comm so you stay alert for the second round or lightning rounds we will do soon after the end of the first round auction!!
I want to Thank from the bottom of my heart and from the heart of the Chilean people for all your help and the kind offers from your hearts which became art and words!!
You are awesome people and I'm proud to have met you all!!
When the auction ends in March the 10th. We will search for the winners and contact both of you for the donation and to schedule the actual delivery of the art or words.
.--------
Bidders:
We need you now
You can bid away all you want and can in the thread of the artist of your choice until March, 10th, 16:00GMT
(
more info
Collapse
)
The great staff of Live Journal hear my request and now you have
this gift
you can find it here!!
http://www.livejournal.com/shop/vgift.bml
and for buy it the recipient will automatically get two months of paid account time!!
so give away to your friends this wonderful livejournal gift!!
Our Unisef page is accepting donations too
http://inside.unicefusa.org/site/TR/Events/PersFundraisingWrapper?pxfid=16390&pg=fund&fr_id=1090
We receive two donations in that page from 3 anonymous Bamfs
new places for donation:
(
here new places
Collapse
)
Thanks anonymous!!
and to all of you, for your offers and bidders
Our Awesome and generous offerors: Writers, artist, graphic artist, fanviders and fanmixers
Current Location:

home

Current Mood:

accomplished

Current Music:

Go Chile Go
Both the Chanel and Weinstein events took place on March 6th, apparently back to back.
(
More class and glamour after the cut!
Collapse
)
No, this is not the same as the Madonna Pre-Oscar thing.
Current Mood:

blah

Current Music:

Kate Havnevik - Sleepless
err,
Space Seed
, that is.
Feel free to watch the episode today, or if you have already watched it, discuss it with other community members. If you're not sure what to write, but want to comment, perhaps consider questions such as:
What was your favourite part of the episode? Why?
What was your least favourite part? Why?
Who was your favourite character in the episode? Why?
Who was your least favourite character in the episode? Why?
What issues did you find interesting? Why?
What did you find completely ridiculous/worthy of lulz? Why?
As we are following Memory Alpha's
episode order
, next Sunday we will be watching
This Side of Paradise.
SEEDS! IN! SPAAAAACE!
Red Carpet - 7:30EST/4:30PST
Academy Awards - 8:00EST/5:00PST
STAR TREK IS NOMINATED IN THE FOLLOWING CATEGORIES:
Best Makeup - Barney Burman, Mindy Hall, and Joel Harlow

Best Sound Editing - Mark Stoeckinger and Alan Rankin

Best Sound Mixing - Anna Behlmer (note: this is her TENTH nomination -- rooting for her first win!), Andy Nelson (FIFTEENTH nomination, also nominated for Avatar, won for Saving Private Ryan), and Peter J. Devlin

Best Visual Effects - Roger Guyett, Russell Earl, Paul Kavanagh and Burt Dalton
Also, Michael Giacchino is not nominated for ST, but is nominated for his score for Up.
WATCH ONLINE:
Note: I have no idea whether any of these streams are available outside the US; if none of them work and you find a stream which does work outside the US, please post it in the comments and I'll update the post!
DISCUSS!
Ladies and gentlemen, this here's your Academy Awards liveblog post! Join your fellow GQMFs in rooting for our film, discussing red carpet fashions, watching out for Pinto sightings, and generally being awesome.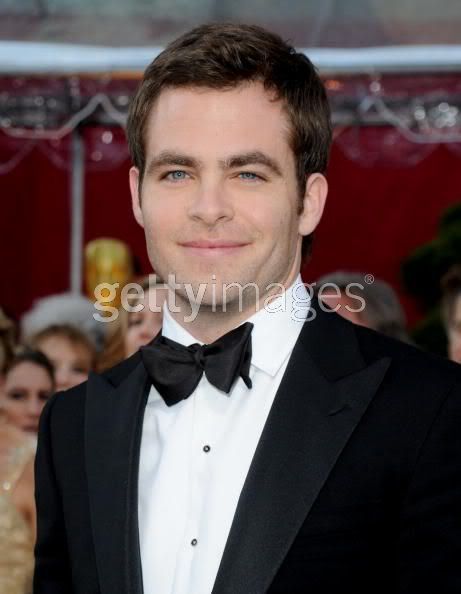 (
More + some unwatermarked and HQ under the cut
Collapse
)
Source
Source
Source
I'll be sure to add more when/if they come in.