March 21st, 2010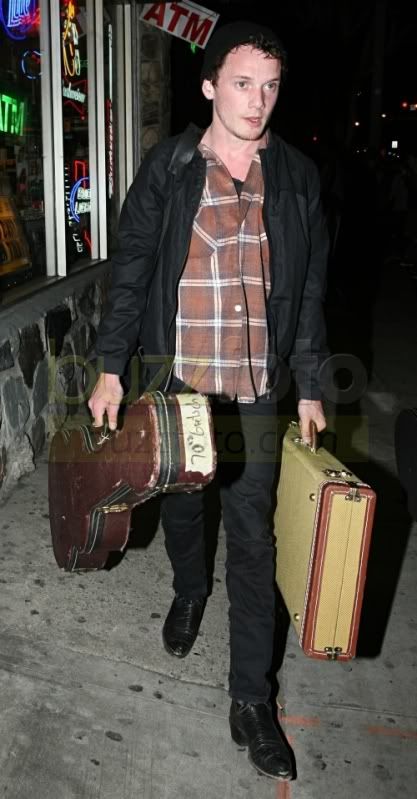 Star Trek cutie-pie Anton Yelchin carried his guitar case after playing a gig with his band at the Viper Room nightclub. A talented actor and a musician? What more could you want in a man?
Source
-------------------
EDIT: for those who are interested what they sound like, you can listen to some samples on their
myspace
page!




...and it got me thinking about weddings and Star Trek.

Which got me to thinking about weddings in the actual Star Trek canon, such as this one from Nemesis (up to about 5:20):



So, I was wondering if we could start a thread with a Star Trek wedding theme.

Anybody out there with Trekkie-themed weddings? Or do you have a favorite wedding scene from the Trek canon? such as the wedding of T'Pol and Tucker? (edit: Wow, I'm really sorry about that. I'm not an Enterprise fan, obviously, and I made an error. Sorry. No, they never got married. I just remember seeing a preview for a wedding episode, and they talk about Vulcan marrying humans, so I made an inference from that. Sorry, ENT fans. :/)

I guess I'm just feeling a little romantic.
So, this scene from the Drew Carey show popped into my head the other day (up to about 2:05)
Surprise!
It's time for macro story number #10 --gosh knows it's been long enough since the last one! It's my 10th Macro Story Anniversary! :D
(
As two classics meet...
Collapse
)
Current Mood:

amused
It was a presentation of "The Physicists" by Friedrich Dürrenmatt. It's about a set of atomic scientists who pretend to go insane so they don't need to give the results of their experiments to the public. John plays Alec Jasper Kilten, who pretends to be Sir Isaac Newton so he can get to Johann Mobius and force him to give his knowledge freely to the public.
Listening to him play this role really casts a new light on his role as Q, because he's as manipulative as he ever was. At the end of Hour Two, there's even an interview with all the actors.
Links:
Hour One
Hour Two
Why? Because John de Lancie performed in the radio play last night!
Current Mood:

excited