March 29th, 2010
I bring you... a WALKING POST!
EDIT: TRUE photo now shown, out of respect for the Empire!
Chris Pine rocks a newsboy cap and a new plaid shirt as carries a pair of sneakers to the gym on Friday (March 26) in Los Angeles.

Earlier this month at the Oscars, the 29-year-old Star Trek stud was talked about by the movie's make-up artist Mindy Hall. She shared, "I call Chris Pine C.P. C.P., I know you're not in this room but he's somewhere. Chris Pine is amazing. He's not only a wonderful actor, he's a wonderful human being. He's a fantastic collaborator. Our entire cast surrendered themselves to us completely, which frees us up and liberates us so that we paint in much broader, stronger, fiercer strokes. When our actors trust us the way this group did…but Chris Pine is amazing. I mean, I was all over him."
(
+3
Collapse
)
And a million more equally-boring photos at the
sauce
.
ALL HAIL THE EMPIRE!
Current Mood:

busy
The Star Trek Themed Cake Wreck.
From the site:
". . . we have the "Most Awesomely Geeky Baby Shower Cake" (EVER!!): You long-time henchpersons will recognize this as an homage to that amazing Darth Vader shower cake which I claimed could only be topped by a cake featuring Spock instead. Carol J. was less than impressed with the bakery's end result, but I think the wreckiness just adds to its hilarity, don't you?"
Two of my fave things smashed together, yum! And who knew Spock had a daughter? You learn something new every day. :D
(And on a baked goods note, I look forward to seeing many creations in honor of our glorious empire in this week's Bake It So!)
ETA: text from the blog I stupidly forgot to add.
http://cakewrecks.blogspot.com/2010/03/wreckies-of-month.html
I realize how busy you all are contributing to the glory that is the Terran Empire, but please stop twirling your sashes and waxing your mustaches for a moment to appreciate the glory that is:
Current Mood:

hungry
In this post there is:
1. William Shatner on Conan O'Brien2. Random TOS gifs3. Star Trek TOS: The City on the Edge of Forever4. Star Trek Reboot5. Pinto Uncut Extra Interview
Sorry a lot are Kirk/Spock centric, but there is definitely some other good stuff in here~ :)
(Also the tags appear to not want to work for me right now D:)
(
Read more...
Collapse
)
Hey~! I have made more .GIFS!
Current Location:

kitchen

Current Mood:

calm

Current Music:

Here we go Again - Demi Lovato


God, she's such an amazing spokeswoman. I work in the space industry, so the intros were especially fun because everyone was basically "Here is Nichelle Nichols, she's amazing, I LOVE STAR TREK OMG."

She spoke about recruiting women/minority astronauts for the shuttle and then did the most AMAZING speech about why NASA and human spaceflight are important to this country and how we should GET ON IT, and we need to put this woman on every media source possible because I don't think anyone would dare disagree with her because she puts it so very excellently. Brought tears to my eyes and to be honest, I would do anything she told me to to help NASA get funding for human spaceflight.

It was truly amazing, bbs. I wish I had pics but alas, I forgot it was today til I got into work and I came unprepared. (Also, I'm pretty sure we're not allowed to bring cameras in for national security reasons.)

(I can't get the tags to work either. Huh. Um. All hail the empire.)
ALL HAIL THE TERRAN EMPIRE whatevs I JUST GOT BACK FROM A SPEECH NICHELLE NICHOLS GAVE HERE AT WORK
Yesterday I went to the Comicon here in Toronto with the express intention of meeting the MFing Gorn and Barbara Luna, AKA, Marlena the Captain's Woman. Good news everybody, Mission Accomplished!! I was shaking while standing in line waiting to talk to them because I was so nervous, but they were both very nice. On the drive home I just kept bouncing and squeeing in my seat from excitement.
(
Pics or it didn't happen!
Collapse
)
All Hail the Glorious Terran Empire, I humbly come bearing gifts for our most high Overlords. Accept these photos as a sign of my fidelity to our glorious empire.
Current Mood:

bouncy
MEET-UP PLANNING
This is the weekly post where members can plan meetups for movies, conventions, and misc events.
The Terran Empire opposes gatherings of more than 3 people, as that only means conspirations to overthrow your evil!mods. Some leniency will be given if the gathering is:
- to celebrate the glory of the Empire
- to recruit more members into the Empire's subjects.
Just specify the city/country you're in and link to a post in your personal journal where your neighbors can plan the meetup with you. or else check out the list of communities dedicated to these meet-ups
(
under here
Collapse
)

RECAP
However, if you did gather to celebrate the glory of the Empire you are welcome to provide evidence in this space. This must include goatees, cheese sandwiches, sparkly sashes and EVIL.
For those of you who were able to document your meetups, please post your pics and recaps here, or better yet link to a post in your own LJ so that the comment pages here don't break the internet.

Even if you didn't take any pictures, please feel free to recount the awesomeness of meeting with other GQMF's, any funny conversations or accidental meeting of other Star Trek geeks fans. lol

Do it!


ALL HAIL THE TERRAN EMPIRE!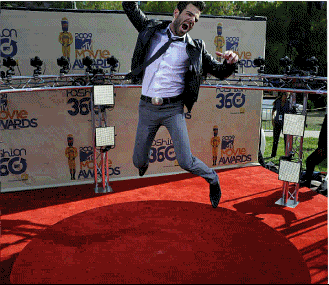 Voting is now open to choose the nominees for the
2010 MTV Movie Awards
. Star Trek is being considered for the following categories:
BEST KISS: Zoe Saldana & Zachary Quinto (Star Trek)

BEST FIGHT: Chris Pine & John Cho vs. Romulans (Star Trek)

BEST FIGHT: Chris Pine vs. Eric Bana (Star Trek)

BEST VILLAIN: Eric Bana (Star Trek)

BEST ASS KICKING STAR: Chris Pine (Star Trek)

BEST ASS KICKING STAR: Zoe Saldana (Star Trek)

BEST MALE BREAKOUT STAR: Chris Pine (Star Trek)

BEST MALE BREAKOUT STAR: Zachary Quinto (Star Trek)

BEST MOVIE: Star Trek
Again, this is not voting for the actual awards yet, this is to choose who will be nominated. But obviously the more om nom NOMS we can score for Star Trek, the better chance they have of WINNING awards, and the better chance of them SHOWING UP at the awards. IT'S ONLY FUCKING LOGICAL.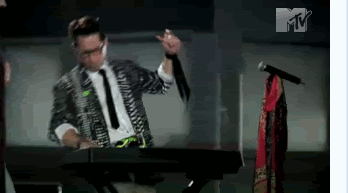 VOTE HERE
by April 9.
Evil Mods, I know you don't generally allow these kinds of posts, but this is some LEGIT stuff right here. IT'S THE MTV MOVIE AWARDS. THE EMPIRE NEEDS STAR TREK TO GET NOMINATED SO WE CAN FINALLY DEFEAT THOSE GODDAMN SPARKLY VAMPIRES AND PARTY HARD FOR THE GLORY OF THE EMPIRE AMIRITE???
That's right, ladies and gents, Karl Urban will be attending the Supanova pop culture expo!
The expo will be at the Brisbane RNA Showgrounds from April 9-11, and at the Melbourne Showgrounds April 17-18. Aside from Karl Urban, there will be a ton of special guests, so many merchandise stands your eyes will bleed, and all kinds of cool stuff. Seriously, too much to describe; go to the site for more information...
www.supanova.com.au
...As if you needed any more information than YOU CAN BE IN KARL URBAN'S PRESENCE.
I'll be going to the Melbourne one, being in Melbourne, and I hope to see a lot of GQMFs coming out of the woodwork on this one.
DO IT DO IT DO IT
Current Location:

Melbourne

Current Mood:

It's exciting!

Current Music:

OMFGWTFBBQ
awesome
evil ways, I bring you a mini-macro story...
(
Evilness abounds...
Collapse
)
ALL HAIL THE MIGHTY TERRAN EMPIRE. In great celebration of our


from EW.Com

Andy Samberg, Zachary Quinto in talks to join Anna Faris in 'What's Your Number'
by Nicole Sperling
Categories: Industry News, Movie Biz
Anna Faris' R-rated comedy What's Your Number? is assembling quite a supporting cast to play her slew of ex-boyfriends. Saturday Night Live's Andy Samberg is attached and an offer is out to Star Trek's Zachary Quinto to play two of the men she revisits in her quest to find love. The New Regency film is based on Karyn Bosnak's book 20 Times a Lady and tracks Faris' character Delilah, who upon sleeping with her 20th guy realizes that it's too many and she must have missed her Mr. Right along the way. Chris Evans is already attached to play her womanizing next door neighbor.
New Regency is producing and filming is scheduled to begin in May, plenty of time for Evan to shoot before going off to be Captain America. Mark Mylod (Entourage) will helm.

Is it wrong that I am excited that he might becomes friends with Andy Samberg and end up in a Lonely Island collaboration?
Gershwin, Spock and Mysterious Past Boyfriend.. . he's a busy guy
IT IS DETERMINED THAT FOR EVERY GQMF, THERE SHALL BE AN EVIL AND OPPOSITE GQMF.
Take a photo, and mirror each half.
ONE IS THE GOOD SIDE. AND ONE... IS THE EEEEEEEVILLL SIDE...
EVIDENCE:
(
LET US SEE WHICH PINE IS AMONG US
Collapse
)


ETA: U R ALL SO AWESOME! THANK YOU!
Is there a collection of the original "Look at this motherfucking _______" macros anywhere? I tried going back 200 on the macros tag, but I couldn't find them.