April 20th, 2010
(
The Hairy Potato Tribble Incident
Collapse
)

(
Pon Farr
Collapse
)

Oh JSYK, after they landed on Risa, most of the crew beamed down while Kyle stayed on board. I asked him why and he said he prefers to stay on board because Risa is too noisy for him and that he'd rather read and relax. I asked what is he reads and he said not anything too old. He then asked if Harry Potter had been written about now because Harry Potter and Shakespeare were mandatory at school..
HEEE. LIEUTENANT KYLE SPOKE TO MEEE. <33
I love kyle :']
I 've also had an event where I talked to Bones and Kirk for a bit on how having Kirk appreciation day prolonged for an entire year would be a bad idea because it wouldn't be special anymore and that he should have a Bones appreciation day. HEHEHEHEHEHEH
Easter Egg Hunts & Conga Lines
This was me after the Pon Farr story:
The people who are doing this are amazing!!
Although I don't want to know who they are cause it might ruin the ~magic~.
Oh and if you aren't following these people you can just type the names that are bolded or after the @ sign.
I think the easiest way is to type the twitter name into google and type twitter.
[Hope I used the right tags!]
plz to have a twitter tag?
In light of these recent twitter fun times, I was requested in the most recent twitter story post to post the stories I have saved from the TOS twitter crew.
With Mamie Gummer
(
Read more...
Collapse
)
Current Mood:

awake
Stay fabulous!
Hah, I never realized his birthday fell on 4/20.
YOU LOOK PRETTY GOOD FOR 73.
Swagbucks has partnered with
Roddenberry.com
to create
RoddenberrySearch.com
, an exclusive place to
Search&Win
exclusive
Star Trek & Roddenberry memorabilia
! It's the newest addition to
Roddenberry.com
, a killer site for Star Trek and Sci-Fi fans!
For any Swaggernauts out there who don't know, Gene Roddenberry was the creator of
Star Trek
, the sci-fi franchise that has inspired everything from the civil rights movement to space exploration to politics. TSG couldn't be more excited to be partnering with
Roddenberry.com
to bring you the opportunity to snag some rare Star Trek swag!
There are a few things you'll notice right away:
1)
RoddenberrySearch
doesn't use Swagbucks as its currency; instead you earn "Tokens". Your Swag Bucks don't work in the Roddenberry Swag Store, and your Tokens don't work on any other Swagbucks Site. In that way it's actually similar to other partner sites.
2) The prizes in the store are true collector's items from the many films and television series in the Star Trek legacy as well as a PHENOMENAL Swagstakes item that I'll be discussing in a blog post later today. That's how huge it is.
For those who don't know, Swagbucks is a search engine but you randomly get "swagbucks" for your searches. Sometimes where are hunts to look for codes that will give more swagbucks. There are various other ways to earn more. Save those up and exchange them for various things like gift cards, music, clothes, etc. It's actually pretty great since you're making "money" by doing something you probably do everyday and takes little effort. So far I've made about $25 in amazon gift cards which not a lot but still something. BUT now there are star trek goodies you can save up for!!
Supanova
over the weekend to meet with a certain handsome Karl Urban.
I'm also a cosplayer, so it was with great
dorkiness
glee I went to have my photo taken with a 'Doctor' dressed as a Doctor.
(
Code blue and red?
Collapse
)
So like many Melbournians, I attended
"There's not even a script and Leonard just announced his retirement -- he's not going to do another movie,"
Quinto said during WET Production's "Stars Give Love" benefit performance of short plays last night at the Lower East Side's Angel Orensanz Foundation.
"Frankly, Leonard has got a mind of his own and he's going to do what he wants regardless of what other people tell him. I'm just glad that he's my friend."
Quinto, a new New York resident, performed along with Emmanuelle Chriqui of "Entourage," Jennifer Carpenter of "Dexter" following an awards presentation honoring "Flashdance" producer Lynda Obst and vice president of HBO Films, Maria Zuckerman.
"I'm really grateful to be back and be working here and living a city life -- it's very different than LA," said Quinto. "Every time you step out of your door, you're entering into a maelstrom of uncertainty, and I love that. The little gifts that the city gives you, the synchronistic moments and the coincidences that somehow never are ... it's a beautiful thing."
The "Spock" star,
who happens to have one of the most hilariously parodied Twitter accounts ever
, is no stranger to the stage. And as an ongoing WET supporter, Quinto said he was happy to be a part of the organization's commitment to changing the way the world views women in media.
"I come from a theater background so there's a huge difference with the audience and reactions in the moment," he said. "When you're working on a film , it can be years before it comes out. So, it's the immediacy of theater that's really appealing and exciting for me."
SOURCE
~*~
1. Yes kids, that is a link to @JacharyQuinto in the article.
2. THEY ARE FRIENDS :')))
3. Your ZQ Vocabulary of the Day:
MAELSTROM OF UNCERTAINTY.
4. STAY HERE IN NYC WHERE YOU BELONG BB. WE THINK YOU ARE BEAUTIFUL TOO. <3 XOXO SPARKLES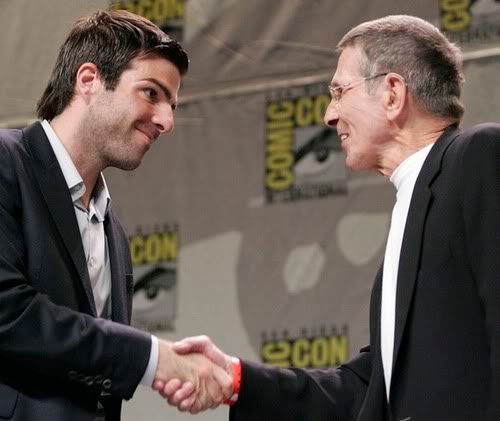 "Star Trek" star Zachary Quinto, who played Spock in the recent film version of the sci fi classic, shot down rumors last night that Leonard Nimoy would return to the silver screen as the character he originally played in the venerated series.
Full article here:
http://www.realscreen.com/articles/news/20100412/shatnercineflix.html
Also, volcanoes cannot stop this BAMF.
Edited because I fail at linking things.
So in light of Len's retirement news, here's a post to try and cheer people up. While Nimoy is retiring, Shatner never stops working. Behold, he will be on your tv screens soon.
clarrisani
and her sister, StalkerofShadows (SoS). I have only put in here the bits that pertain to Karl and James Marsters ST geekery. The whole report is on my LJ with the other talks and things that happened that day. Now to get onto remembering Saturday and typing that one up...
(
Report under here
Collapse
)
Under the cut is my report for my Supanova Sunday adventures with
Current Mood:

nostalgic