May 12th, 2010
Hopefully you all enjoyed the fontant tutorial! This week's tutorial is courtesy of
kksimone
:
(
Holy shit, son, it's an Enterprise cake!
Collapse
)

If you'd like your cooking or crafting tutorial included in an upcoming Bake it So/Make it Sew, either:
PM me the instructions if they're fairly straightforward (short w/ no pictures)
Email me the instructions (my username at gmail) if they're a bit longer (1 or 2 pictures only)
Post the tutorial as an entry in your own LJ and send me a link (best bet if there are a lot of pictures and/or it's complicated). Be sure it's not f-locked if you do so.
Try to make it as ST-specific as possible (i.e., "how to knit a ST insignia" rather than "how to knit"). I'll try to rotate between cooking and crafting tutorials -- if I get enough of both, I'll include one of each type in each week's entry. (I don't have any for next week yet, so please send something in! :))
Have fun! :)
In last week's installment of Bake it So/Make it Sew:
As an update to
this post
, the final nominees for the
2010 MTV Movie Awards
have been announced.
STAR TREK IS ONLY NOMINATED FOR TWO OF THEM. And not so much Star Trek as just Chris Pine.
BEST BREAKOUT STAR
Anna Kendrick – Up in the Air
Chris Pine – Star Trek
Gabourey Sidibe – Precious: Based on the Novel Push by Sapphire
Logan Lerman – Percy Jackson and the Olympians: The Lightning Thief
Quinton Aaron – The Blind Side
Zach Galifianakis – The Hangover
BIGGEST BADASS STAR (New Category)
Rain
Angelina Jolie
Channing Tatum
Sam Worthington
Chris Pine
SO NO NOMINATIONS FOR BEST MOVIE, BEST FIGHT SCENE, BEST KISS, ETC. >:( SO MUCH FOR BLOWING TWILIGHT AWAY IN 2010.
Our girl Zoe Saldana is however nominated for Best Female Performance for her role in Avatar, and in the Best Kiss category for her Avatar kiss with Sam Worthington.
(
Complete list of nominees under cut
Collapse
)
Sauce:
MTV
via ONTD Prime
Oh well, at least we'll get to see Chris and Zoe on the red carpet again. Maybe one of them can smuggle Zach in?
NEVER FORGET QUINTO 360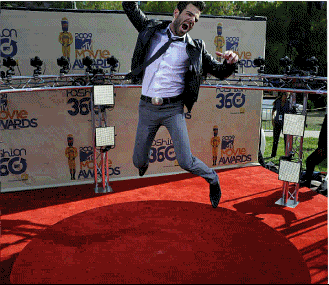 (I hope this isn't too off topic...)
JJ Abram's new teaser trailer for his film,
Super 8
is out now~! :D
(I think it looks really cool!! *O*)
JJ BB thanks you for your time~ <3
Hello GQMFs!
Current Location:

family room

Current Mood:

moody

Current Music:

U Got Nothin' On Me -Demi Lovato