May 13th, 2010
Admit it. Your first thought upon seeing this
is, "Jelissss! I always had to wear dress clothes in family pictures!"
And your second thought is, "Wait a minute. Troi's outfits didn't have black collars! Did she even ever wear a catsuit that color?"
The question, my friends, is which thought earns you more geek points?
The Suite Life on Deck is a sitcom for children and tweens about two brothers and their friends who live on a ship that travels the world. In the episode "Starship Tipton" the crew of the S.S. Tipton travel into a Trek-inspired future to save their descendants. Along the way, they run into Star Trek's George Takei.
The Suite Life on Deck "Starship Tipton" premieres on The Disney Channel on Friday at 8:00 PM.
Article Source
Video Source
I have to admit that I watch Disney shows and I want to see this one just for the cheesy factor. And George Takei.
It Made My Day
, one of the Cheezburger sites, and I'm only finally remembering to post it now because of the Poorly Dressed entry from earlier. :P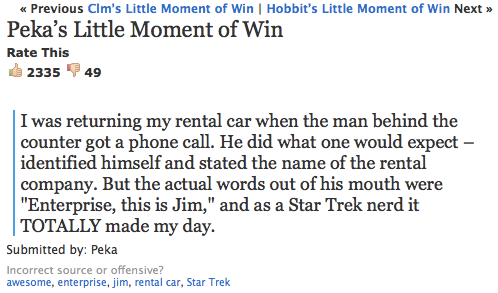 Source if anyone wants to read the comments, which are pretty much a debate on why it's not really accurate.
ETA: And everything there tagged
Star Trek
if anyone wants more.
I know I have
always
thought of Star Trek in regard to Enterprise. I think they should do a customer survey to see how many people choose them because of ST. XP
This was actually posted...almost exactly two months ago at
The sole purpose of this post is to assist all those who have ever wanted to say "I'm gay" in Klingon. Can anyone verify this translation?? Hahaha. It can be seen @ 1:14.
Chris Pine chats with an older gentleman while seated at an outside table at La Conversation in sunny Los Angeles on Thursday afternoon (May 13).
The pair caught up over coffee. The 29-year-old Star Trek star was seen carrying a DVDcase, wore one of his signature gray newsboy caps, and was kind enough to pick up the bill at the end of their meal.
(
I can not put into words my hatred for this hat.
Collapse
)
Source