June 11th, 2010
Times: 7pm July 31 & August 7
2pm August 1 & August 8
Location:
Blanche Lavizzo Park
I've set up a
twitter
account and
Captain's Blog
to keep people updated on the behind-the-scenes scoop.
Sulu compels you!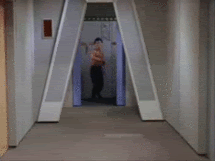 Coming July 31-August 8 in Seattle, WA, Hello Earth will be performing "The Naked Time" live, for free, outside. Taking our cue from Atomic Arts' "Amok Time" last summer in Portland (hey, they're doing "Space Seed" this year--see you there!) it should be fun, familiar, and unexpected all at once.


So here is the weekly post where you GQMFs can post links to their own Star Trek-themed fan videos, art, fiction, crossover macros, and anything else that you feel best belongs right in here.

We recommend that you comment with a link to your journal/youtube/DeviantArt/etc, where we can all bust a gut laughing at your talent, as opposed to posting all the pictures/videos/etc in a single comment.

Punch pimp it!
It's that time of the week again: Friday!