BBs, welcome to Fix Club. If this is your first night, you HAVE to show your appreciation for the finest engineers in Starfleet.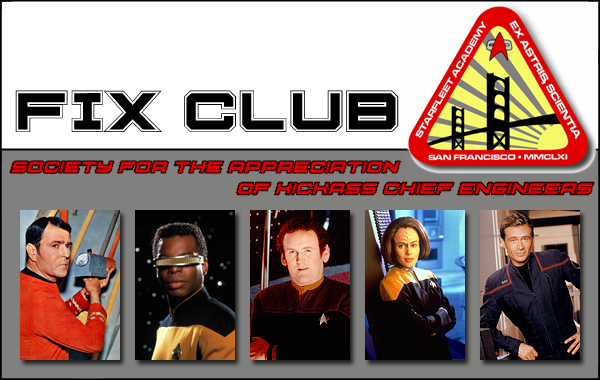 Fix Club, a.k.a. The Starfleet Academy Society for the Appreciation of Kickass Chief Engineers, was founded to honor the hardest-working, most dependable bunch of GQMFs in the galaxy: the problem-solving, polarity-reversing, matrix-recalibrating, life-support-sustaining, more-power-to-the-shields-providing engineers of Starfleet. Without the know-how and ingenuity of these brave men and women, every Federation ship, starbase, and station would fall to pieces. They'll keep givin' it all she's got until the last redshirt is beamed up, even if they have to break the laws of physics to do it.
(
Collapse
)
If you've got any pics, GIFs, macros, vids, fics, fond memories, etc etc involving any of the fine GQMFs above,
THIS
, my fellow cadets, is the place to post them. And don't limit yourself to these characters, either! There are other engineers in Starfleet, and there are also technicians from outside the Fleet who we could all stand to learn from. As far as I'm concerned, anybody whose job it is to keep a place together with duct tape and elbow grease and a hope and a prayer belongs right here, having their hard work and masterful skills celebrated in this post.