September 17th, 2010
ANYWAYS. I was flipping through "The Pictorial History of Sherlock Holmes" and what did I stumble across?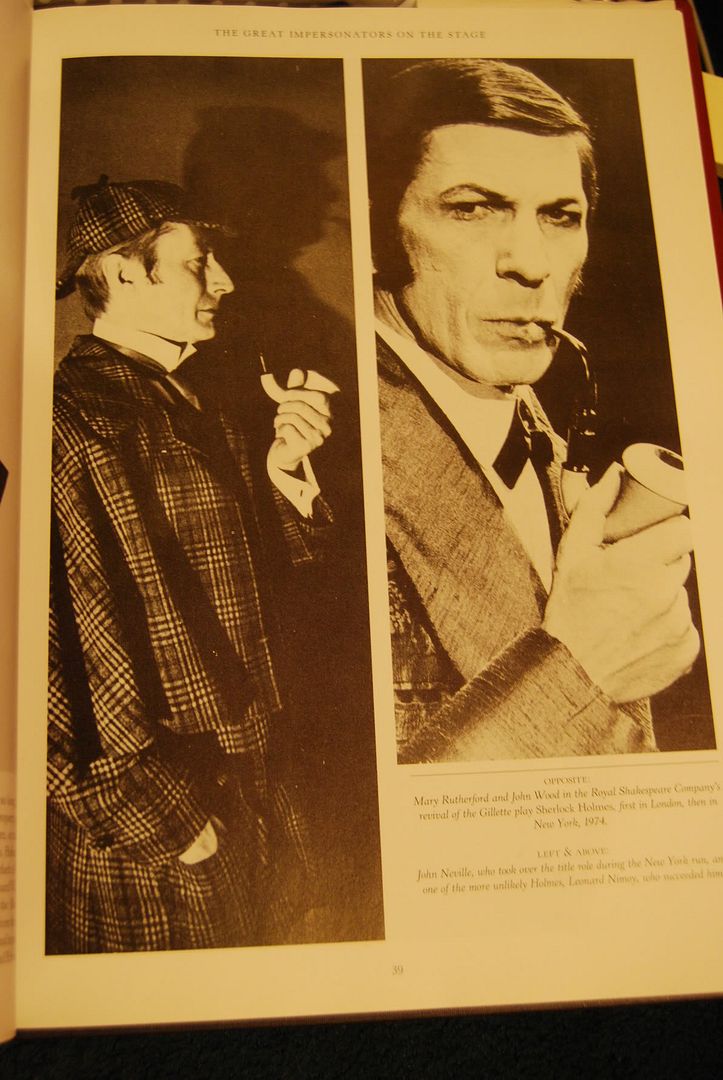 CLICK ON THE PICTURE FOR A MUCH BIGGER MORE OBNOXIOUS VERSION.
LEONARD NIMOY PLAYED SHERLOCK HOLMES.
I SURE LOTS OF PEOPLE ALREADY KNEW THAT. BUT I DID NOT. AND IT WAS AMAZING TO FIND. SO I WANTED TO SHARE THE AMAZING.
Okay, so first off for the mods, I'm sorry if this wasn't worthy of a post, sorry, sorry, sorry! I know it says there shouldn't be posts with only one picture but uh. I haven't seen any other pictures (or maybe I just suck at finding them :| ) so I figured I'd make a post anyways and if it gets turned down, that's fine too. It just amused me greatly so I figured maybe there are some who haven't seen it and it will amuse them!
The Washington Shakespeare Company is hosting a benefit on Sept. 25th that will feature readings of both Hamlet and Much Ado About Nothing in their original Klingon.
You know that somewhere, Shex'pir is shedding proud tears of honor that the lowly humans are finally getting to hear his glorious plays the way they were meant to be heard, and at a volume suitable for warriors.
And did I mention that none other than BAMF George Takei will be at the benefit?
So, if you're in the D.C. area, grab your copy of the Klingon Hamlet and your prune juice and support your classic literature.
Biker!Worf and his Old Lady thank you for your time:
I don't remember seeing a post about this, but for those of you that can't get to the Klingon Opera on the 24th in Germany,



LOL I love this show XD
Just saw this new spot advertising the TREK to Thursdays!
Current Mood:

content

Current Music:

Copacabana - Barry Manilow (lol *facepalm*)
princehamlette
's posting of Mirror Universe drawings
Friday!
So here is the weekly post where you GQMFs can post links to their own Star Trek-themed fan videos, art, fiction, crossover macros, and anything else that you feel best belongs right in here.
We recommend that you comment with a link to your journal/youtube/DeviantArt/etc, where we can all bust a gut laughing at your talent, as opposed to posting all the pictures/videos/etc in a single comment.
Punch
pimp it!
It's that time of the week again:
Hey guys! I'm really sorry this is late. I was in San Diego on Thursday, otherwise this would have been up sooner. Anyway,
starlady42 has asked me to help her by doing these Twitter posts from now on, which I am excited and happy to do. Hopefully I can come up with a fun way to format these posts soon.
This is the
bi
weekly post for community members to discuss the week's Twitter shenanigans.
Here are some GQMFs to get you started:
Have fun!
Also, feel free to let me know if you have any ideas for me/the mods in general.