October 1st, 2010
But it's what he wrote about Karl Urban that has me squeeing in my coffee this morning:
Two of the revelatory performances, though, belong to the younger cast members, Mary-Louise Parker and Karl Urban, both of whom more than hold their own against some cinematic greats. Parker's Sarah has an extraordinary cuteness, which she focuses into a geek-girl portrayal that's simply adorable. In the film, Willis' character has developed a crush on her based entirely on phone calls and Parker very much makes Sarah someone you can buy falling for sight unseen.

Urban, meanwhile, plays William Cooper, a CIA Agent tasked with tracking down Moses. Effortlessly jumping from a super cool best-at-what-he-does persona to hitting emotional notes on the head, Urban's may be the highlight performance of "RED." Unlike the rest of the cast, he doesn't have his own cinematic laurels to fall back on and still manages the right blend of parody and sincerity. There should be no doubt that Urban is ready for true leading man status.
But we all knew that.
Source: RED (Fantastic Fest)
Movie Review - ComingSoon.net
So 'RED' got a full showing this past weekend at 'Fantastic Fest' in Austin, TX. It got a whopping 8.5/10 rating from the reviewer at comingsoon.com.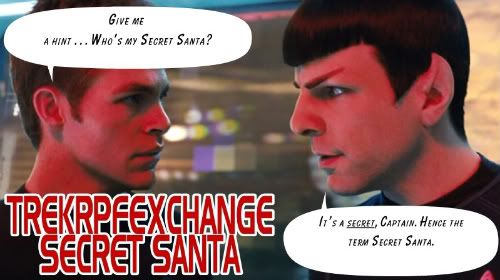 Join us for the 2nd Annual
trekrpfexchange!
Signups now OPEN!!!
In case youve worn out that blue and red TNG keyboard from the 90s (did anybody buy that oddly Superman colored computer gear?)
http://keyscaper.com/star-trek/
The ones featuring Enterprise from STXI are available at
www.tfaw.com
for a better price.
Primeulu's timely PSA about the ominous approaching storm of gay marriage
, Nulu (aka John Cho) has helped to compile a few NEED-TO-KNOWISMS about gaymericans and what will happen if they are allowed to actually be gay in the military!! >:c
Carefully study these
widely known facts
about the straightly-challenged in our armed services and you, too, will realize that America's
seventeen-year-old
Don't Ask, Don't Tell policy is clearly rooted in documented fact instead of vaguely-justified hysteria.
Plus everyone, especially the Choverlord (in an amazingly hot t-shirt ;_______;), is REALLY HETEROSEXUAL in this so they know what they're talking about, okay.
Also starring Weird Al Yankovic as Dolly Parton apparently.
(Don't forget, GQUSMFs, election day is 1 mo 1 day away. Which side did YOUR senator fall on re: this issue, hmmmm?)
Not to be outdone by
Current Mood:

ANGER
And speaking of conventions....
I'm posting this to support the hosts of KISMET, Kate and Anne, advertising this convention to the LJ communities.




KISMET is a fan-run K/S convention that will be held next year in York, England/United Kingdom for the second time.
This con will concentrate and clearly focus on TOS and offers panels as well as quizzes, caption competitions, bring & buy, raffle, episodes, movies, a zine library – and much more!
There will be also a Con zine contests - best K/S drabble * best K/S limerick * best K/S cartoon – for which you are welcome to contribute.
You will learn about more details in the master entry on my journal where I will also announce updates, or by asking the organiser Kate and Anne: Kismet2011[at]hotmail.co.uk
I have not been to KISMET yet but I'm determined to think the best of it and judging from the English hospitality and friendly atmosphere at Closet Con 2010 – I have no doubts.
DATES:
Friday 19th August –Sunday 21st August 2011

COST:
£235 for 2 nights (includes breakfast Saturday & Sunday, dinner Friday and Saturday and lunch Saturday & Sunday)
£280 for 3 nights - as above plus Monday breakfast.
For Day registrations please look at the detailed information.

VENUE:
The University of York which is very accessible by car or public transport.


Kate and Anne are looking forward to seeing you there!
And so am I.


Here's the link to my journal where you'll find the KISMET information sheet.


So here is the weekly post where you GQMFs can post links to their own Star Trek-themed fan videos, art, fiction, crossover macros, and anything else that you feel best belongs right in here.

We recommend that you comment with a link to your journal/youtube/DeviantArt/etc, where we can all bust a gut laughing at your talent, as opposed to posting all the pictures/videos/etc in a single comment.

Punch pimp it!


It's that time of the week again: Friday!