I couldn't resist bringing this comic to your attention (because it's too true!).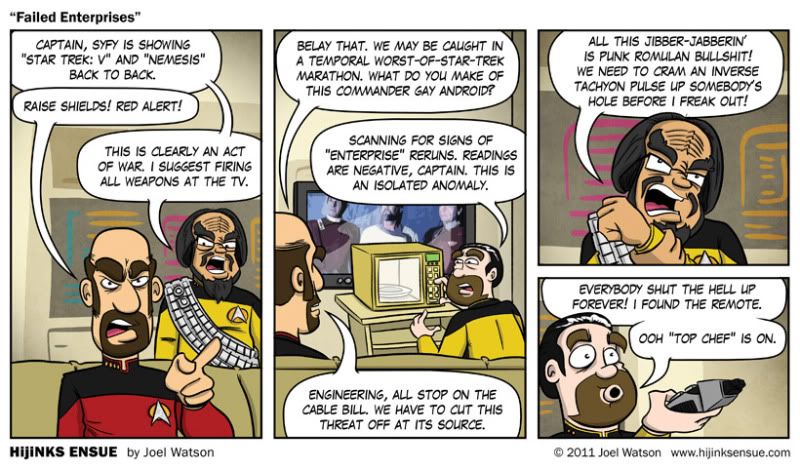 (Click to go to comic!)
HERE IS ANOTHER ONE you might find entertaining.
MEET-UP PLANNING

This is the weekly post where members can plan meetups for movies, conventions, and misc events.
Just specify the city/country you're in and link to a post in your personal journal where your neighbors can plan the meetup with you. or else check out the list of communities dedicated to these meet-ups ( Collapse )


RECAP

For those of you who were able to document your meetups, please post your pics and recaps here, or better yet link to a post in your own LJ so that the comment pages here don't break the internet.

Last week, there was some planning for future meetups. Let's see what this week will bring...

Even if you didn't take any pictures, please feel free to recount the awesomeness of meeting with other GQMF's, any funny conversations or accidental meeting of other Star Trek geeks fans. lol

Do it!
LOOK AT THIS SUAVE GQMF
YOU BET YOUR ASS IT'S
WILLIAM T. RIKER
This fly BAMF will seduce your women, rescue your researchers, invent fucking war strategies, fight Klingons for respect and honor, and all without needing those pesky Q abilities! Show him some love!
(Can I just say, by the way, that I love some of the stuff that winds up on Memory Alpha? Case in point: "Sometime during his early career, Riker needed to wear a feathered costume while on a diplomatic mission to
Armus IX
. Similarly, he wore furs to meet with the leadership council on
Kabatris
.
[
TNG
: "
Angel One
"]." Umm... okay?)
Next week: Amanda Grayson
Poll for two weeks out:
Who should be our appreciated character for 25 Jan?